2019 Video – Jr. Fire Academy – Direct Donate – About Us
Excerpt from Association of Fire Districts of the State of New York website: (https://www.afdsny.org/docs/020317_Basic_Fire_Department_Structure_December_5_jff.pdf.)
Advantages of Forming a Fire District
It's in the best interest of the residents to eliminate differing tax rates; rate is based on combined assessed valuation. All residents within the District will pay the same rate.
Tax levies by the fire district will free up town or village property tax revenues
Fire protection tax levy no longer applies to town or village real property tax cap
Consistent and stable budget for the fire district will allow the department to implement long range planning and purchases.
Eliminates the instability of funding from year to year due to annual negotiations with different jurisdictions which may be financially stressed due to the tax cap.
Provides transparency as they operate under state laws and regulations for governance under the watchful eye of the Office of the State Comptroller.
Provides for self-governance, positive morale and a focal point of responsibility.
District is an individual governmental entity, governed by state laws.
Provides stable governance and management, not subject to the fiscal pressures of others
Can concentrate on the sole mission the provision of fire protection.
Village and Town politics removed from fire district governance and operations.
The State has greater oversight over fire districts unlike village controlled departments or fire protection districts, there is increased accountability. That includes annual audits and a host of regulations laid out in state statute.
All voters would have greater influence over fire protection spending by electing commissioners and voting on all debt incurred.
If the Town reduces funding for contracted areas covered by a Village, the Village in turn may reduce service to the Town requiring the Town to find additional funding.
Exposure for VFBL coverage is transferred to the fire district. (VFBL is worker's comp)
Budget accountability, separate from town or village, taxpayers see where money is going
Fire Districts may establish taxpayer approved reserve funds.
Districts save on interest costs by use of reserve funds for large purchases.
Creates a legal mechanism for residents to participate in capital project referendums
Creates a legal mechanism for residents to have equitable ownership of fire protection assets for which they fund.
Operation of Districts is based in Statute, Town Law and General Municipal Law et al, which Boards must follow.
Fire protection managed by local publicly elected officials who complete specialized training course and concentrate on providing one service to the community.
Negative Aspects of Forming a Fire District:
Perceived loss of control, by Towns that Contract for fire protection.
Opposition by local elected officials
Differences in union contracts, wagers, retirement systems or benefits
Turf wars
Potential of loss of membership due to consolidation or elimination of station
Join Us For
2021
Junior Fire
Academy
at Martell Fire Training Center
July 29 – August 2, 2018, with Graduation planned for Saturday at 10:00 am.

Images are from 2016
It's many a childhood dream to grow up to be a fireman. Each very summer, the Whitehall Volunteer Fire Company makes it possible for children to experience that dream at a week-long J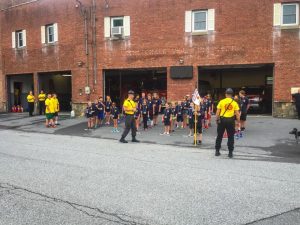 unior Firefighters Camp.
The all-day specialty camp is designed for children entering 4th through 8th grade, and is taught by Whitehall Volunteers Fire Company firefighters, state certified fireinstructors and EMT's in topics such as: Fire Cause and Prevention, Fire Safety, Firefighting equipment and its usage, CPR and First Aid, Importance of Teamwork, Physical Fitness and Marching just to name a few.
Classes begin at 9am each day and will end at 3pm. The Junior Firefighters are issued uniforms and photo ID tags that have to be worn at all times during their attendance at t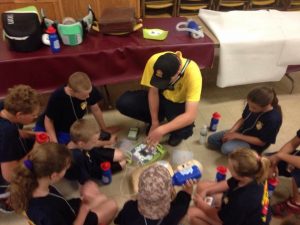 he Academy. "Kids will learn the basics of first aid, search and rescue procedures, fire prevention and suppression, everything a probie would have to learn," said Deputy Fire Chief Brian Brooks Sr.
The Junior Firefighters Camp is offered Monday through Friday the first week of  August and will conclude with a formal graduation ceremony on the following Saturday. "This is somewhat of a boot camp type environment" according to Deputy Chief Brooks. Due to the importance of these subjects, training is taken very seriously. If a junior firefighter acts out of line or is disrespectful, some forms of punishment that may consist of push-ups, running extra laps and or writing what they did wrong several times and how they won't do it again. Fire camp will focus on the development of the four core character values of Caring, Honesty, Respect and Responsibility.
As a Junior Firefighter, each child will hold an important role in the Fire Safety of their families, school and fellow classmates. During Fire Prevention week, each Junior Firefighter will be allowed to assist the Fire Company in educating the other students in school as well as the rest of the community. In the Spring, the Fire Company participates in the Recruit NY program and Junior Firefighters will assist in conducting an Open House. Each year the Fire Company participates in Play Day at the Whitehall Elemntary School and the Junior Firefighters will assit us.
The cost is estimated at $100 per student, and the fire company is counting on generous donations from the community so all of the students can attend for free.
"The fire camp was created as a new approach to our Fire Prevention Education program," according to Brooks, who began public fire education over 35 years ago in October 1981. "We have been looking for 30 years for a program for kids in this age group."
Interested parties are asked to contact President Brian Brooks at 744-0722 or email info@whitehallfire.org for details.
---
Recruitment video by Pawlet, VT Fire
Whitehall Fire is actively seeking Volunteers to join our organization.
Volunteers must be at least 16 years of age.
We encourage everyone who has an interest in serving their community to stop down.
---
Donate directly to the
Fire Operations Account
All donations go directly for the support of the fire company.
 Donate directly to the
Harold F. Martell Fire Training Center
Financial reports are filed with the Village of Whitehall annually in January.
---
Mission Statement
To acquire and own fire apparatus of any kind or nature for use by the organization in the protection of persons and property from injury, loss, damage or destruction by fire or other emergency.
To supply suitable quarters for the use of the members of the organization in connection with the housing of fire apparatus and for the provision of a meeting hall for the administration of the company and the social and recreational use of the membership.
 To provide fire protection to the territory in which the operation of the organization are principally conducted, which includes the Village and Town of Whitehall and all other areas under legal written contract.
 To foster interest in all matters pertaining to the volunteer fire service and the welfare of volunteer firefighters.
 To inculcate love of country, good citizenship, civic virtue, self-sacrifice and perpetuate the spirit from which the earliest days have actuated volunteer firefighters in the rendition of service of the highest type in the protection of life and property from fire without hope of fee or reward.
  Article 1, Section 2 of the Constitution and Bylaws – Whitehall Volunteer Fire Company Inc.
About Us
The first volunteer firefighters in Whitehall date back to 1806. A paid fire department was instituted  in 1913, resulting in the disbanding of  all the volunteer fire companies in service at that time. The paid department was abolished by the village voters in 1985. The paid department's budget at the time was $71,000 per year.
The Whitehall Volunteer Fire Company was organized in October of 1957, it serves both the village and town of Whitehall, New York. In the late fifties, it was nicknamed the "Volunteers" to differentiate it from the paid department. We currently receive $35,000 from the village and $122,000 from the town.
Situated on the southern tip of Lake Champlain, the "Volunteers" maintain, in addition to fire suppression, a Technical Rescue Team which includes Low Angle Rescue,  Ice Surface/Cold Water/Swift Water Rescue Team that serves on Lake Champlain, East Bay, South Bay, the Champlain Barge Canal, and the northeast side of Lake George. Whitehall borders the Adirondack Park and maintains a Search and Rescue Team trained by the New York State Department of Environmental Conservation Rangers.
The company has two stations,  the first housed in two adjoining buildings and the second in the former Skenesborough Central Fire Company building adjoining the new Town and Village Municipal Center. The oldest building is the original Whitehall Fire Department building erected in 1913. The firefighters lounge houses the original brass fire pole and Gamewell alarm system. Tours are given upon request. A 1843 Button & Blake Hand Pumper (built in Waterford, NY) and an 1850 Ladder Truck are on loan to the Skenesborough Museum, located between the stations.
Whitehall Volunteer Fire Company Incorporated proudly protects 6200 people living in an area of 58 square miles. We protect a primarily rural area.
Our department is a public department whose members are on a volunteer status. Although organized as a village fire company, the Whitehall Volunteer Fire Company serves both the Town and Village of Whitehall.
Our fire company borders five other departments with whom we have mutual aid agreements, along with the remaining twenty-six fire departments in Washington County and six fire departments in nearby Vermont State (three miles away).
From 1981-2000, we conducted a Fire Explorer Post program for high school students, through the Boy Scouts of America. Many of our members and current officers were exposed to firefighting through this program.
We currently have a Junior Firefighter program for High School Students ages 16-17. Please check out our  long term plans from 2011 on the Public Education page under Fire Company Goals.
Contact Us
PO Box 188 161 Main Street Whitehall, NY 12887 (518) 499-0720
info@whitehallfire.org
Insurance Company Reports –
See Main Menu for Fire Report Request
Patch Requests –
See Main Menu for patch request directions on how to get a patch